June 10, 2019 | Posted in art | By Pepe
Been busy with knocking out projects, commissions and conventions so haven't had a chance to share the finished painted Doctor Doom Sketch Cover. Here it is all finished up. Rendered with Faber-Castell PITT artist pens, POSCA paint markers and Liquitex paint.
May 21, 2019 | Posted in art | By Pepe
Here is Doctor Doom Sketch Cover painting stage 02. For this stage, I continued working on the metal areas and the eyes of this sketch cover. Stared stage 02 by finishing up the eyes. Then, I moved on the metal areas by going back and forth with dry brush blending of the various tones of the metal. Rendering with Faber-Castell Pitt artist pens and Liquitex paint.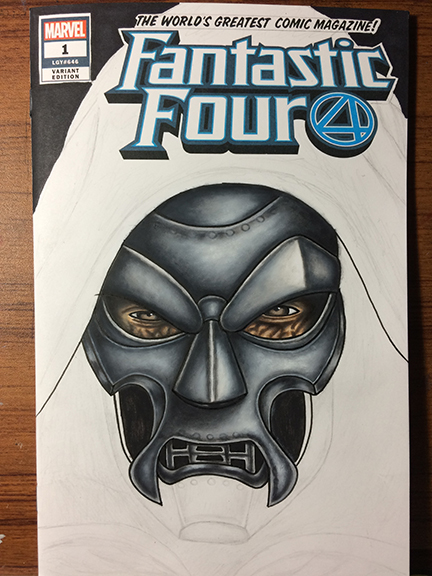 February 15, 2019 | Posted in art | By Pepe
Doctor Doom Sketch Cover pencils all finished up. Looking to add paint to this soon.